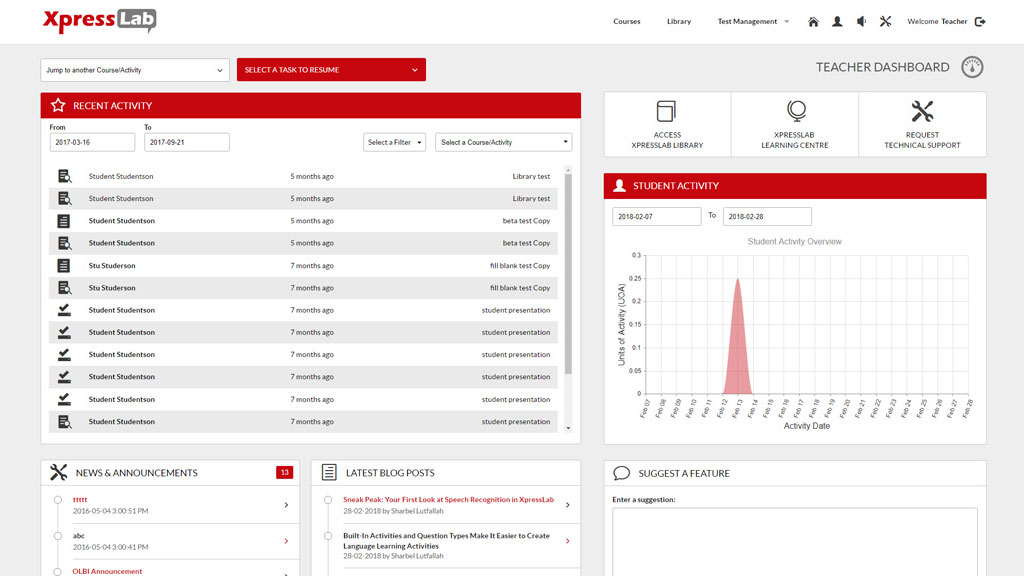 Since XpressLab's initial launch in 2011, the innovative language assessment and course authoring platform has continued to serve teachers and students grades K to 12 across the province of Ontario. Over the past two years, we've worked diligently alongside teachers and students to develop new innovations and enhancements that better serve our users.
This summer, our dedicated team of developers and designers have returned to our creative drawing board with exciting to plans for the 2014-2015 school year!
Armed with feedback, suggestions, and cutting edge technology, we've revisited XpressLab's user interfaces and are preparing to make changes that will improve usability, while providing new tools and functionality that are both engaging and time-saving.
The new Teacher Dashboard is made up of the following key features and functionality:
Jump to Activities or Resume Tasks: With the click of a button, teachers can navigate to a specific course or activity from within their XpressLab account. Similarly, teachers can quickly resume a task from a previous session.
Recent Activity Timeline: Recent student activities will appear in real time within the dedicated Recent Activity timeline. From here, teachers will find a list of student names, as well as the date and time of each activity completed, and a short synopsis of the student's activity within the XpressLab platform. Teachers will have the ability to sort the Recent Activity timeline using intuitive filters such as: sorting by activity, and sorting by date/time.
XpressLab Developer Feed: Updates and news from the XpressLab development team will appear in the Developer Feed to alert teachers to new features and innovations.
Blog Feed: Recent blog posts from XpressLab will appear in the Blog Post feed, allowing teachers to get in on the conversation and stay connected.
Streamlined Navigation: With the click of a button, teachers can navigate to their XpressLab Library, the Learning Center, or the Technical Support area.
Student Activity Graph: Teachers can view an at-a-glance summary of student activity, for a quick re-cap of task or activity completion, making it easier to identify areas of weakness or improvement.
Suggest a Feature Box: Teachers can send a direct message to the XpressLab team regarding their questions, comments, feedback, or suggestions for features and functionality they'd like to see added to the XpressLab platform.
At XpressLab, we're committed to improving learning outcomes by getting students excited about learning. It is our goal to develop a platform that makes it easy and efficient for today's educators to incorporate blended learning and 21st century objectives into their core curriculum.
We're looking for your feedback as an educator, school board official, and/or XpressLab user! Tell us what you think of our Teacher Dashboard concepts, and provide us with your thoughts, insights, and recommendations of what features you'd like to see – we can make it happen!
Email your thoughts to hello@xpresslab.com or connect with us on Facebook, Twitter and LinkedIn to get in on the conversation and see what other's have to say about XpressLab's language assessment and course authoring solutions.
---