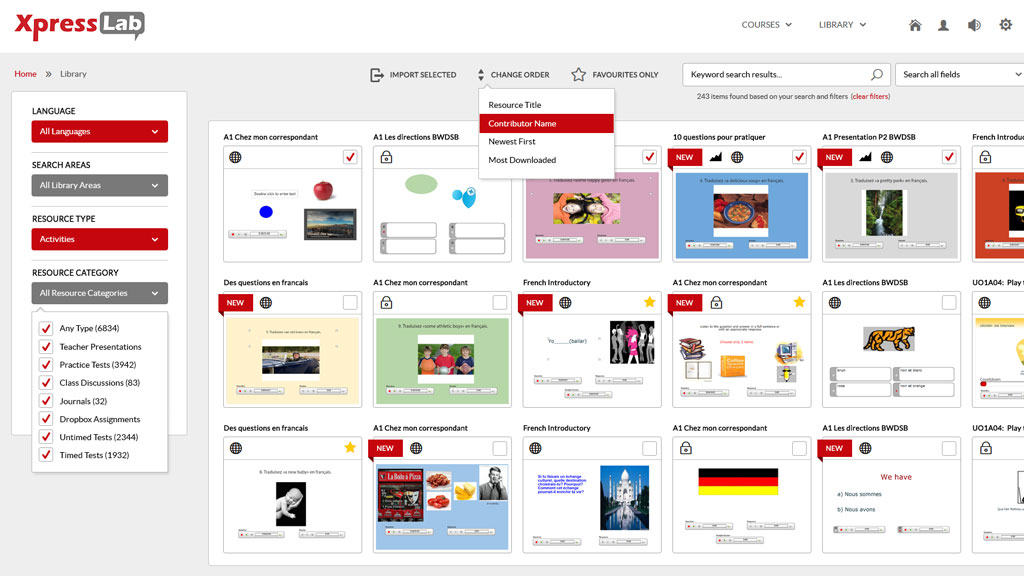 In our last post, we revealed a sneak peek at our latest concepts for XpressLab's new Teacher Dashboard, which includes engaging new features and functionality designed and developed specifically for teachers.
In addition to the new Teacher Dashboard, we've taken a closer look at XpressLab's current Library Engine, and spent extra time reviewing the feedback and suggestions provided to us from current XpressLab users and educators from across Canada. Based on this feedback, we've concepted an entirely redeveloped Library Engine, which will allow teachers to easily locate their previously developed content, as well as making it easier to share their original content with other teachers within their organization.
Take a look at what we're planning for XpressLab's Library Engine: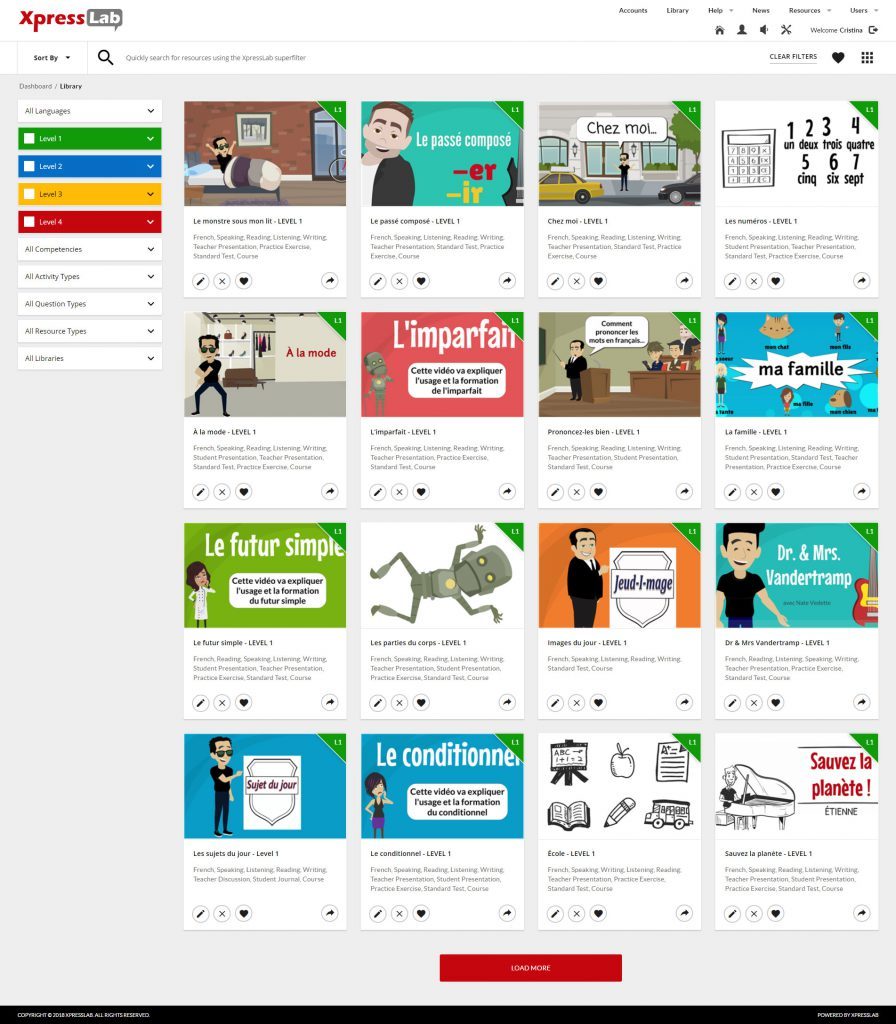 The Library Engine will include the following features functionality:
Fully Indexed Resource Library: Content developed by teachers in XpressLab will be stored, sorted, and indexed, making it easy for teachers to quickly locate the resources they need.
Shared Community of Content: The Library Engine connects teachers across Canada and internationally by supporting the sharing of activities and assessments, helping to promote a global sharing of knowledge and coordination in the movement towards blended and 21st century learning. Quick access to previously created content means that teachers can easily incorporate interactive course material into their course curriculum, without having to create the content from scratch.
Intuitive Search Filters: Teachers can search for content based on Language, Resource Category, Resource Type, Subject, Display Options, and Search Areas. Keyword and Field searches can also be conducted.
Interactive Tiles: Teachers hovering over a Library Item will provide a short description of the content, and the content's author. With the click of a button, teachers can edit the content, import the content, save the content to a list of Favorites, or preview the full content.
Display Option Functionality: Teachers can save their content for private or global use by restricting their display options. Display categories are marked by easy to interpret icons, such as a globe for global content, and a lock for personal content.
Logical Sorting Features: Teachers can organize and sort their global Library Engine by simply selecting the Change Order button or Favorites Only button.
Bulk Import: Teachers can import multiple course, activity, and assessment content by selecting as many items as applicable, and simply clicking the Import Selected button.
New Items and User Statistics: All new content is clearly identified by a New icon. In addition, teachers will have the ability to rate global content. Ratings and statistics will be visible to all global users, making it easier to find highly reputable content for sharing and repurposing.
Send Activities to Courses: Teachers can select activity content from within the Library and import the content directly to their personal courses.
With the new Library Engine, we hope to improve the XpressLab experience for teachers using the platform to create, share, and manage their digital course content. A global community of like-minded professionals focused on improving learning outcomes by responding to the changing needs of students in a digital society is paramount in our global shift to 21st century learning.
Our proposed new Library Engine connects teachers around the world, while also striving to make it easier for teachers to start incorporating digitally empowered content into their classrooms today!
What are your thoughts on sharing digitally empowered content in the education industry? Would XpressLab's proposed Library Engine make it easier for you to start incorporating 21st century and blended learning activities into your classroom? What is your school doing to respond to the changing needs of technically-savvy students?
We want to hear from you! Share your feedback, insights, comments and suggestions on XpressLab's Library Engine and we'll be sure to include your feedback as we roll out this new enhancement to the XpressLab platform!
Contact us directly by sending your email to hello@xpresslab.com, or join us on Facebook, Twitter, and LinkedIn to get in on the conversation.
Let's work together to make lifelong learning fun and successful for educators and students!
---