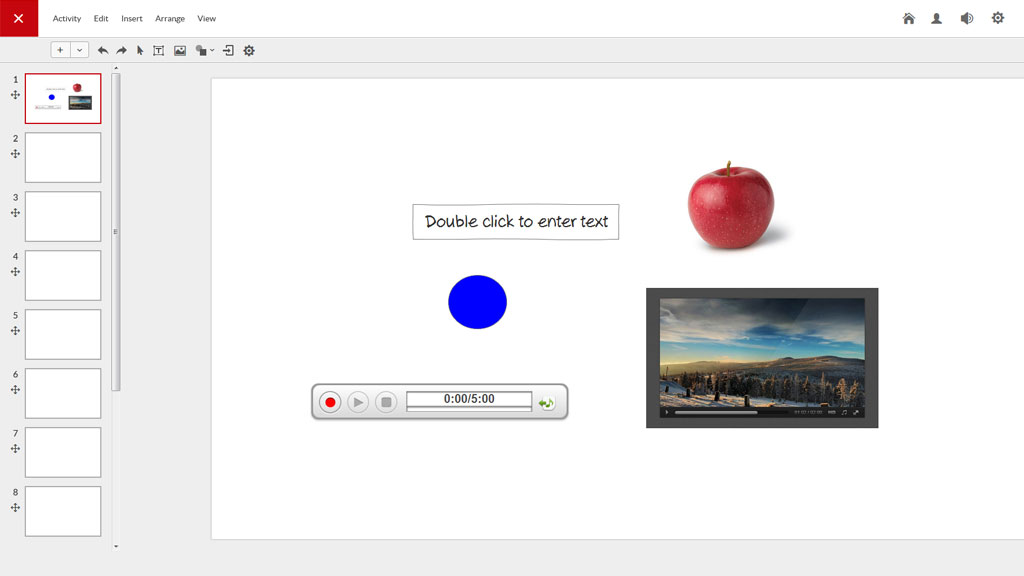 XpressLab is a unique digital language assessment, course authoring, and course delivery platform that uses multimedia tools to create interactive activities, lessons, assessments, and course content. With XpressLab, it's easy to create interactive course content and assessments that specifically target listening comprehension and speaking skills, by adding sound, images, and text that build language fluency and increase engagement with learning objectives.
As a course authoring platform, XpressLab makes it easy to create a dynamic and interactive learning environment where students are encouraged to use technology to learn how to speak, read, and write in a new language. XpressLab is intuitive and easy-to-use for both teachers and students. Built-in web authoring tools allow instructors to create course material and assessments by simply choosing from colours, fonts, backgrounds, and graphics, as well as making it easy to import existing images, files, and audio streaming – all from within XpressLab's user-friendly dashboards!
While XpressLab's course authoring features have been a user favorite since the platform's initial launch in 2011, our innovative design and programming experts have been hard at work improving and enhancing the look, functionality, and overall navigation of the course authoring interface. In previous enhancements, we worked to improve consistency of display between the Authoring mode and the Student View mode. In this latest redesign, we're aiming to reinforce this consistency for an even better, "what you see is what you get" experience.
Here are the features and functionality educators can expect to experience in the enhanced Course Authoring Interface:
Improved Layout & Design: A clean, sleek, and modern interface with more space, improves your ability to edit, add, and view course content, activities, and assessments throughout the creation process.
Enhanced Formatting Toolbar: An optimized formatting toolbar with easy-to-identify icons, makes it easier to find the tools you need, reducing confusion and decreasing the time it takes to create content.
Improved Functionality: Add activities (i.e. voice recordings, pictures, text, music, and/or video), edit existing content, arrange slides, or view a preview of the final product at the click of a button. New streamlined navigation links are designed to make creating content more intuitive and logical.
Improved Navigation to and from the authoring interface: Easily navigate to your XpressLab dashboard, profile page, volume, and settings at the click of a button.
Improved Graphics: From the toolbar to the icons used throughout the slide-based course authoring interface, users can expect an upgrade in the quality of the graphics used throughout the platform.
Click and Drag Repositioning: Simply click and drag any slide to rearrange the position of your course material.
With the enhanced course authoring interface, we hope to improve the look and feel of XpressLab's course authoring platform while also improving the consistency between the Authoring mode and Student View mode, making it easier and more intuitive for educators to create course content as well as improving the "what you see is what you get" experience. With improvements to the formatting toolbar, as well as improvements to navigation and usability, we hope to improve productivity for educators by reducing the time it takes to create course content.
What are your thoughts on our proposed enhancements to XpressLab's course authoring interface? What elements of the current course authoring interface do you currently rely on and which elements would you like to see improved? How can we make XpressLab's course authoring interface better for you?
Share your thoughts by emailing us at hello@xpresslab.com, or joining in on the conversation on Facebook, Twitter, and LinkedIn.
---