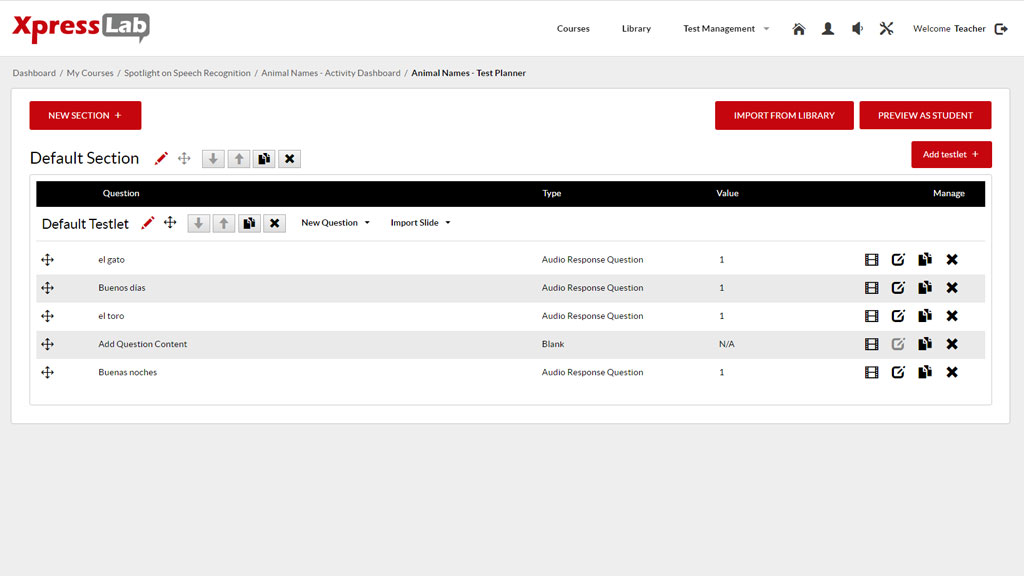 Creating interactive language tests just got easier with XpressLab's new Test Planner. The Test Planner provides a streamlined and systematic alternative to the platform's original slide-based authoring environment.
Sections and Testlets provide an easier way to create and structure language tests. Sections and Testlets are used to group together test questions and core concepts that evaluate a common objective, such as listening comprehension, or writing proficiencies. This approach to language test authoring works to support high stakes testing environments by improving the integrity of test evaluation. Test Sections are fully customizable within the Test Planner interface, with the option to add as many Test Sections as required. Applying constraints on testlets and/or test questions within a Test Sections, allows for control over Section Time Limits, Minimum Section Scores for progressing to remaining Test Sections, and more.
Each question within the Test Planner can be edited in Design mode, by clicking the Design View button. Design View is used to enhance test questions by dragging and dropping audio recordings, video clips, images and more.
What does test authoring look like in the new Test Planner? Check out the feature spotlight video below:
Looking for new ways to create interactive language proficiency tests? EMail us at hello@xpresslab.com to learn more about how XpressLab can work for you.
---