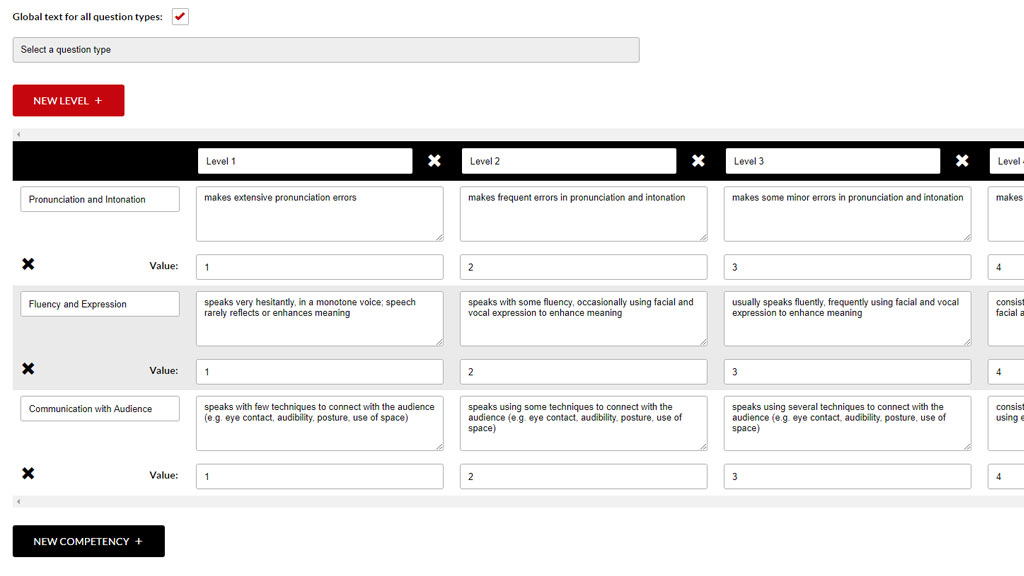 XpressLab now offers extensive Rubric Management tools designed to support high stakes proficiency testing with defendable, authentic results. Creating and applying rubrics to subjective question types, such as audio and written response questions, extends performance evaluation far beyond a single grade or mark.
XpressLab rubrics are fully customizable, allowing teachers and test evaluators to clearly identify the specific elements that differentiate between the qualities or levels of performance. Rubrics are autonomous within the system, which ensures that a single rubric can be applied across multiple tests or test purposes.
With the help of the Rubric Template editor, rubric generation is both easy and efficient. The user-friendly, free-form interface offers users full control over the rubric generation process. In this way, rubrics can be as complex or as simplistic as required.
See the Rubric Template editor in action by watching the Feature Spotlight video below:
Rubrics are used as an overall assessment tool for human reviewed tests and/or question types that do not use a Scoring Matrix. Auto Approved tests or question types are still automatically marked using the correct answers supplied during test creation. The competencies, levels of performance, and performance values/criteria, can be applied to all question types within a test, or applied to specific question types. Once created, rubrics can be attached to a test during the test authoring phase, by selecting from one of the pre-made rubrics found within the Test Settings interface.
Rubric Management is just one of the many exciting new features now available within XpressLab. Stay tuned for more updates and blog posts on our latest innovations and platform enhancements.
Whether you're already using XpressLab or are interested in learning more about the platform, we'd love to hear from you! Share you feedback, questions, and comments by emailing us at hello@xpresslab.com
---