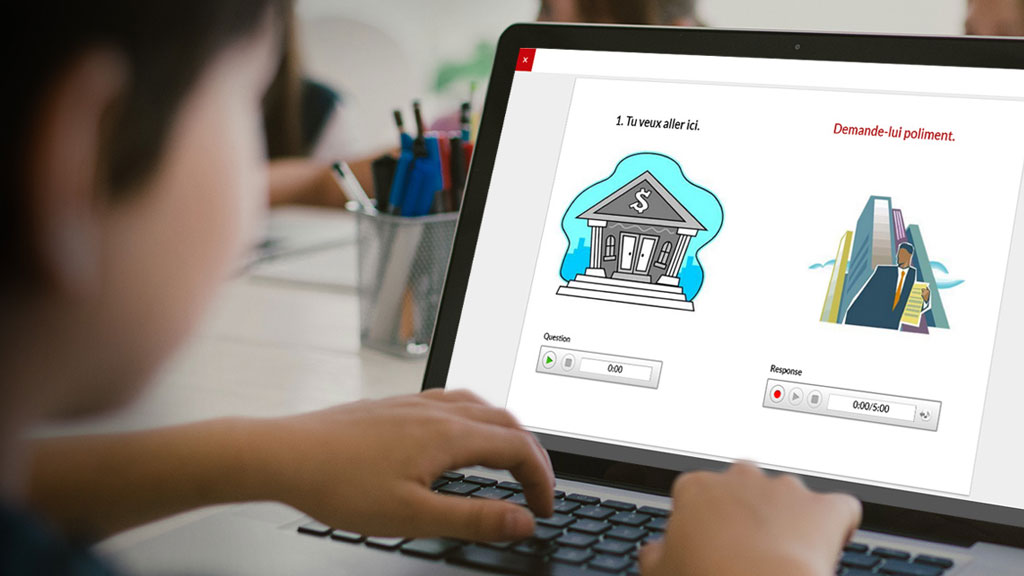 Multimedia, the combination of text, images, sound and video, work together to help to create a multi-sensory, fully immersive environment. Adding multimedia elements helps educators engage students in a uniquely interactive environment. Many students find it easier to remember pictures as opposed to paragraphs of flat text, especially when it comes to non-native languages. In addition, multimedia integration also empowers students to create and design rather than simply absorb and regurgitate static information.
Incorporating multimedia elements in language education helps improve student learning outcomes by:
1. Developing Student's Speaking Confidence:
Adding sound clips, video and student voice recording functionality into your language assessment activities provides students with the unique ability to engage with assessment material beyond simply reading questions and responding. Allowing students to hear and see assessment concepts in an interactive and student driven environment, makes test material and assessment activities more approachable. In addition, by making language learning fun, course material becomes more relatable and the stress of test taking is reduced.
---
2. Helping Students Grasp Difficult Concepts:
Many students find reading in a new language overwhelming, and as a result, many students disengage from the material long before a test date. Adding audio and visuals creates a new dimensional to language learning, allowing students to gain exposure to concepts incrementally, leading up to an assessment. Students are able to recognize language patterns and nuances through previous exposure to sound and imagery. When test day arrives, multimedia elements incorporated into the assessment activities help students recognize key phrases and concepts that would have otherwise been ignored if they were relying only on memory of reading static passages in a text book.
---
3. Making Language and Culture Come Alive:
Today's digital learners are tech-savvy and accustomed to engaging with content through a digital screen. Adding multimedia elements to your language assessment activities ultimately brings language and culture education to the student's level, and thus making these concepts more relatable and less intimidating.
---
4. Encouraging Creativity:
Allowing students to create stories, slideshow presentations or recorded narratives, language educators give students the ability to express their ideas and work in a concise way, capturing their ability to communicate their thoughts and concepts beyond simply regurgitation. Giving students more tools to present their work allows learners to engage in assessment activities in a more personalized way, which improves creativity, creative thinking and reflective thoughts.
---
Are you looking for a way to start integrating multimedia into your language assessment activities? XpressLab is a unique digital language assessment, course authoring and course delivery platform that uses multimedia tools and interactive activities designed to make learning more interactive and ultimately, more fun. XpressLab integrates online testing and evaluation by allowing educators to post a wide range of exam types, including oral, auditory and timed exams. Students are able to take tests and complete assignments directly within the XpressLa platform, and assessment results are automatically recorded within the platform, making it easier for educators to evaluate and track each student's achievements.
---