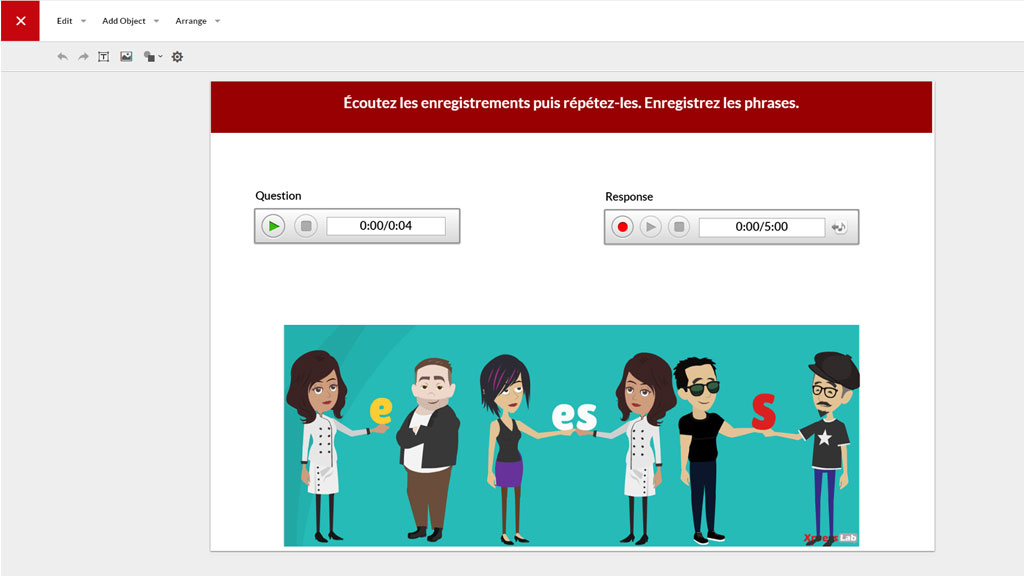 XpressLab allows teachers and test authors to create interactive language proficiency tests using multimedia elements, such as audio recordings, video clips, images, and more. In a recent blog post, we highlighted the benefits of using the Test Planner to structure language tests using Sections and Testlets. Now, we're spotlighting Design view, a unique feature found within the XpressLab Test Planner. Design view offers a hands-on, "what you see is what you get" slide-based authoring environment, where multimedia elements can be added directly within each test question.
Questions are added to a Testlet by selecting one of the built-in Question Types found in the Test Planner. Once added, a question can be formatted and enhanced with multimedia elements by clicking the Design mode icon. This flips users over to the Design view interface, where Objects (audio recordings, YouTube video clips, images, shapes, and more) can be added to the question at the click of a button. Elements can be arranged and modified using click and drag technology, which allows test authors the freedom to refine and stylize each question accordingly.
The video below offers a preview of XpressLab's Design mode functionality. This short spotlight video demonstrates the ability to quickly flip to the Design view from the Test Planner, as well as illustrating the ability to add multimedia objects to a test question.
Curious about the Test Planner and Design mode? Sign up for a no-obligations Free Trial today! To learn more about XpressLab and licensing opportunities, contact us directly at sales@xpresslab.com
---