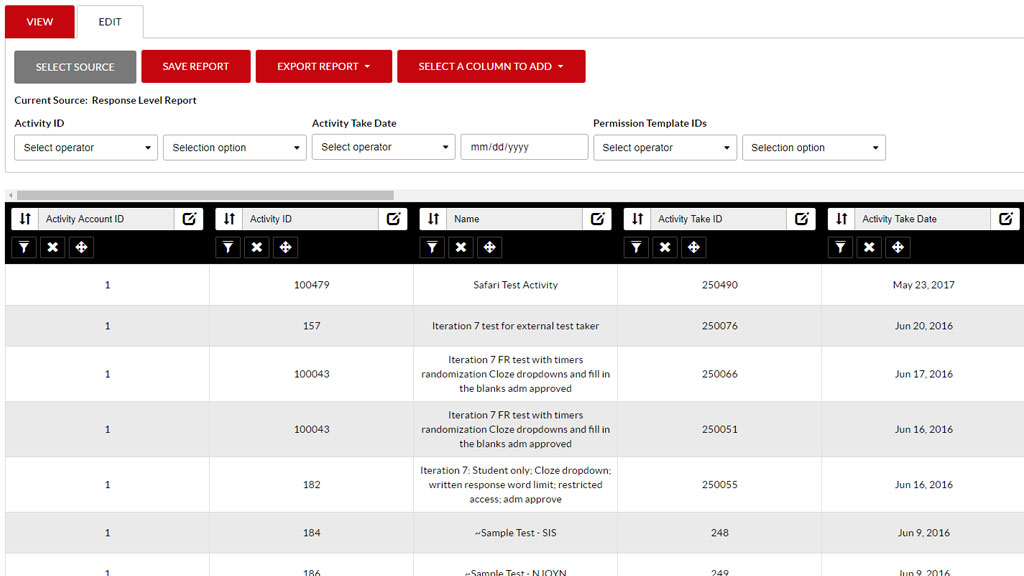 Result Reports provide a personalized summary of a test-taker's performance on a specific language proficiency test within XpressLab.
Result Report Templates are created by admin users with the appropriate security permissions. Report templates are customized within the visual editor, which allows admin users to format report content with the easy-to-use formatting toolbar. Images can also be added to the Result Report Template to support the institution's branding and to help create a visually appealing experience for test-takers. Report content is determined by the selection of built-in placeholders, which represent the data and performance metrics that auto-populate once a test is completed and released back to test-takers for review.
A Result Report Template can be applied to a test or activity during the test authoring phase via the Activity Settings. Result Report Templates are also autonomous within the system, which ensures that a single template can be applied across multiple tests or test purposes.
Once a test has been evaluated and released back to test-takers for review, the Result Report is made available within the Test-Taker Dashboard. A notification email is also sent to test-takers indicating that the Result Report is available for viewing on the Test Taker Dashboard.
The following Result Report illustrates a standard report template created within the visual Result Report Template editor, and released to a test-taker following test evaluation: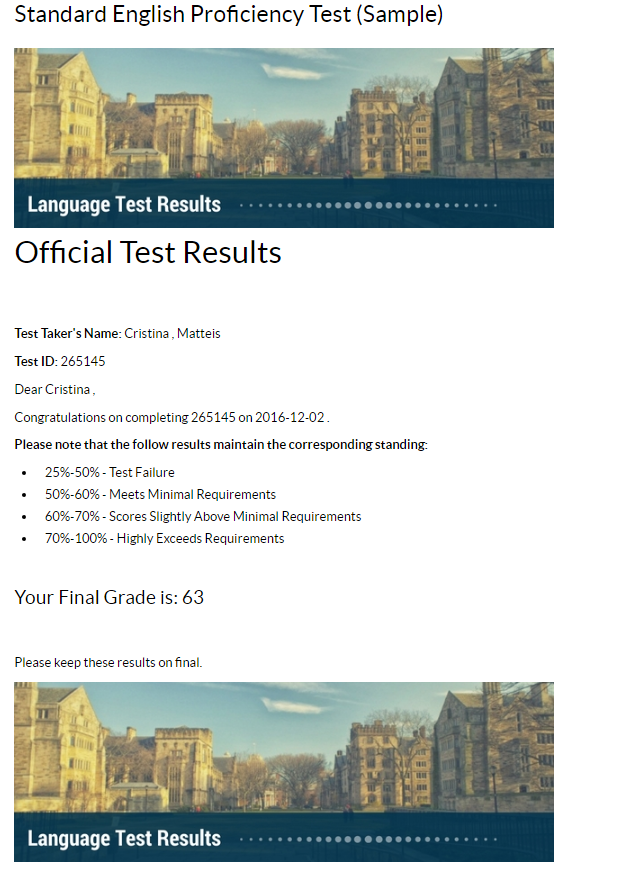 In the example above, the Test Taker Name and the Test ID are automatically generated based on the selection of the Name and Test ID placeholder selected in the visual editor. The Test Taker Name, the Test Date, and the Final Grade detailed in the report content are also generated based on the selection of the corresponding placeholder within the visual editor. This process works in the same way as the Mail Merge functionality in Microsoft Word.
Here's a look at the Result Report Template editor within XpressLab. Selecting one of the built-in data placeholders allows admin users to customize the performance metrics and test taker details that automatically populate when the final Result Report is generated. The selected placeholders appear within the report content, as highlighted in the image below:
The following spotlight video highlights the quick and easy process of creating a custom Result Report in XpressLab:
Result Reports provide test-takers with insights regarding their test performance. XpressLab also includes a robust Reporting engine to facilitate the intuitive creation of custom reports for teachers and admin users. To learn more about Result Reports and custom reporting within XpressLab, contact sales@xpresslab.com.
---