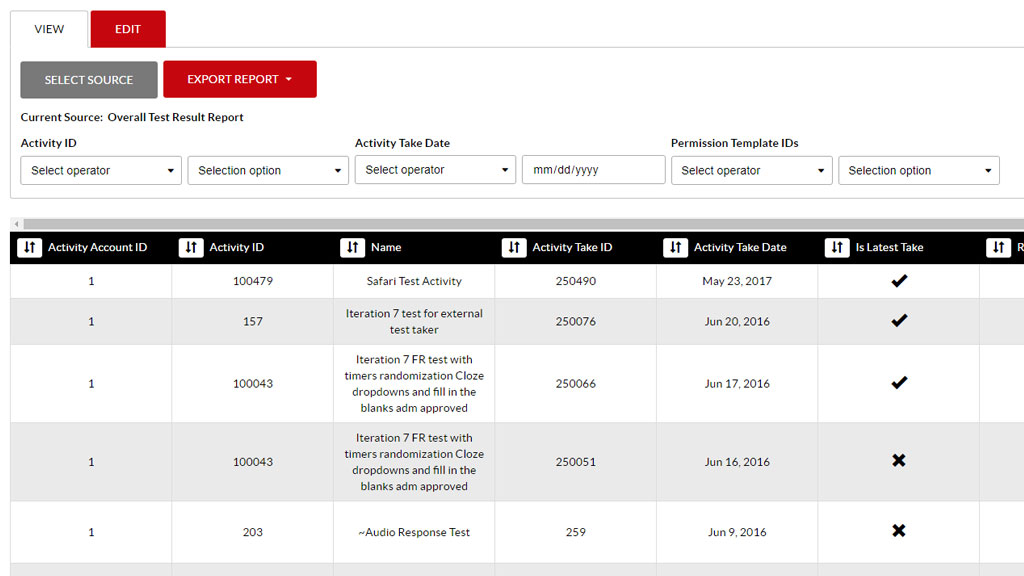 XpressLab's Reporting engine allows administrative users to create dynamic and customized reports and report templates. XpressLab Reports provide actionable analytics specific to: activities and test instances, grades, overall test results, in-test responses, test section performance, user metrics, and more.
Within the Reporting engine, administrative users with the appropriate security permissions are able to pull and organize test-taker and user demographic information, activity performance data, and test results collected throughout the XpressLab system. Once a report is generated, it can be exported and downloaded in Excel/CSV and XML formats for further analysis and easy import into third-party applications.
The intuitive Reporting interface allows admin users to create custom reports by selecting from various report sources and data filters. Admin users can then define the reports data fields and customize column headers according to a reports function and intended purpose.
Reports are generated based on the selection of a Report Source. Selecting a Report Source determines the data filters and data fields available within the Reporting interface. There are six Report Sources available within XpressLab. These Report Sources include the following:
Activity Report: Provides comprehensive details about one or more activities/tests contained within a course. Selecting the Activity Report source allows admin users to examine and define data pertaining to activities/test within a selected course. This report source analyzes: the activity status, activity creation date, activity details (i.e. graded, multi-review status, auto assigned, etc.), and more.
Grades Report: Details test-taker achievement within a test or activity. Selecting the Grade Report source allows admin users to examine and define data fields such as: average grade, grade achieved, grading status, test reviewer(s), test-reviewer demographics, test-taker demographics, and more.
Overall Test Results Report: Provides comprehensive details regarding activity takes or test instances, and summarizes the scores achieved within each Test Section. Selecting the Overall Test Results Report source allows admin users to examine a specific test instance, review a summary of scores achieved by test-takers within each test section, and review the result code automatically attributed to test-takers via the Scoring Matrix applied to the test instance.
Response Level Report: Displays individual responses from a list of test instances. The goal of this report is to illustrated the selected responses for test instances or test submissions. Selecting the Response Level Report source allows admin users to examine selected test-taker responses to testlets/test questions.
Test Section Report: Displays data pertaining to Test Sections and testlets that exist within the selected Test Sections. Selecting the Test Selection Report source allows admin users to examine the content groups, section identifies, minimum test sources, and additional performance data pertaining to Test Section results.
User Report: Provides general demographic and system usage information as it relates to test-takers within the XpressLab system. Selecting the User Report source allows admin users to track the number of test-taker accounts within their organization, as well as the number of tests performed by each test-taker within a specific period of time. The User Report source provides additional data metrics that support a number of administrative functions.
Once a Report Source is selected, admin users can begin creating and customizing their XpressLab report data. Within the intuitive Reporting interface, administrative users can select, modify, and delete data fields in order to further refine the data metrics expressed in the final report.
The following spotlight video highlights the quick and easy process of creating a custom Report in XpressLab:
XpressLab supports seamless integration with existing third party applications. Let us integrate XpressLab with your existing Learning Management Software (LMS), Student Information Systems (SIS), Single Sign On (SSO) framework, and more. Contact us today by emailing sales@xpresslab.com.
---