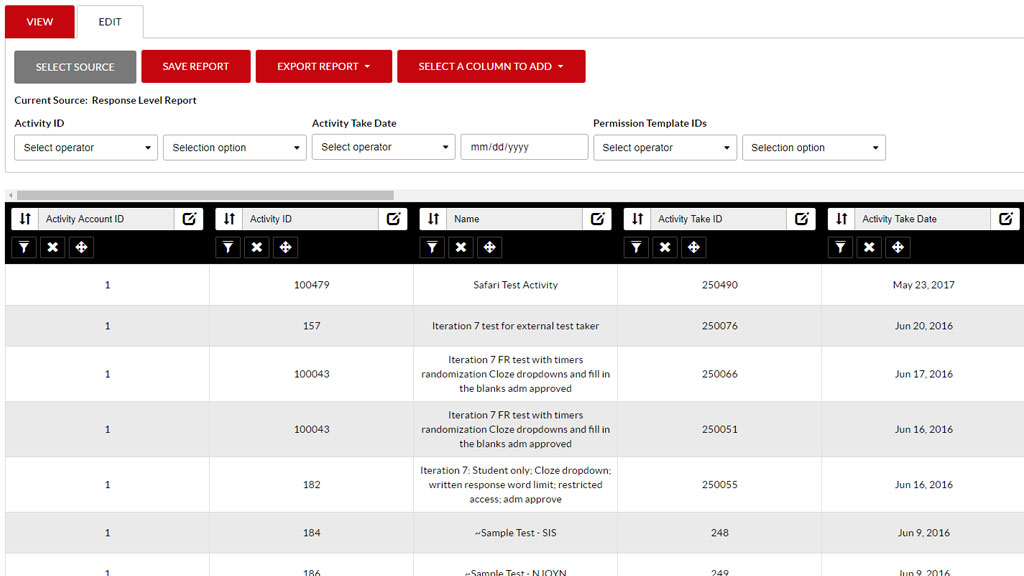 With the new reporting engine currently in development, XpressLab users will soon be able to easily self-create and generate intuitive reports that will provide comprehensive details on individual student or group performance, overall system performance, and much more.
Through the easy-to-use reporting interface, administrative users (i.e. teachers, school board officials, test scorers, and more), can create robust reports that provide the excat insight the user wishes to explore, by simply selecting from a number of logically aggregated report filters and criteria. Once report filters and criteria are set, administrators can export their fully customized, bilingual report in PDF, Excel or web-based formats.
Top-level performance-based reports, such as the Course Reports in the Teacher Dashboard, will remain a key feature in the XpressLab platform. Similarly, students will maintain access to their test results and in-depth test submission feedback within their Student Dashboard.
With the Reporting module's new options and functionalities, all user types (from students to teachers, test administrators to school board officials and more), will gain access to report generation functionality, creating in depth analytics reports based on the simple selection of filters and criteria available within the report generation interface.
Here's a look at how easy it is to create custom reports in XpressLab's new Report Generation module:
Start by choosing from number of different report types, such as the "Test Result" report.
Next, select which filters you'd like to apply to your report. Choose from a broad range of options such as: a particular course, a particular test, all or certain test takers, a specific date or date range, etc.
Preconfigured data columns will populate the report type selected. Data columns will relate contextually and logically to the report type selected, such as: First Name, mark, Average Mark, etc. To customize your report, rearrange, edit, add or delete data columns as they relate to the report you wish to generate.
Save your report configurations to a personal library of report types, and save time generating the same report type in a future session. Opening a saved report type within your personal library allows you to made any changes to the report filters and data columns, prior to re-running the same report type against new users/new system data.
Preview report results in the web-based interface, and export your final report results in a variety of file formats, such as: PDF, XML, CSV, HTML etc.
The new Report Generation module and reporting interfaces will join the series of new features and functionalities currently under development and set for public launch in the summer of 2015.
What types of reports would you like to generate within you XpressLab account? Are there certain analytics you'd like to explore or reporting tools you'd like to gain access too? Share your feedback, suggestions and comments with the XpressLab development team by emailing us directly at hello@xpresslab.com.
---